We Don't Need A New Library (Yet)
I go to the downtown library every couple of weeks for books for myself and my toddler. It's directly on some main-line bus routes; and no more than 2-3 blocks away from the remainder (filled green dot in image that follows). At certain times of the day, most patrons arrive via transit - and many of those are clearly mobility-impaired. The space is underutilized, despite what you hear - there's apparent office space on upper floors; and the shelves on the ground floor are of a substandard height (the tops well below my eye level, and I'm not a tall man). There's plenty of room for more books - if we got better shelves and made better use of the upper floors.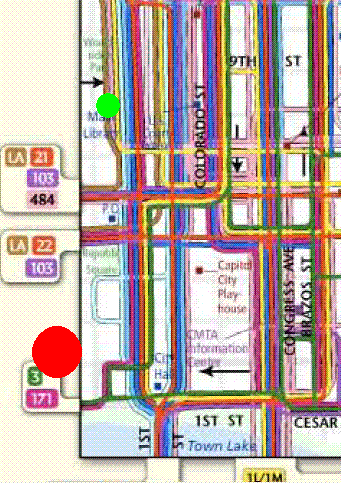 The new proposed location is in a backwater corner of downtown where the closest major bus routes would be 2-3 blocks away (big red dot off the edge of the picture here); and the remaining major routes would be 4-5 blocks away. The library campaigners claim otherwise, but remember: anybody who refers today to "light rail" obviously doesn't know what they're talking about. The commuter rail line ends a mile east of here; and the proposed streetcar (still a couple of blocks away) is just a gleam in peoples' eye. All of this seems like a small difference until you try to navigate the extra difference in a wheelchair (or as me, on a day when my arthritis is particularly bad). Then, you get it: drop me off right in front, please.
Yes, the new building would be pretty. Yes, the current building is a particularly ugly example of Soviet-inspired 1960s/1970s architecture. I'm positive the new location would have more parking, too; but the purpose of the main central library ought to be to serve folks in the following order of preference: the transit-dependent, downtown workers and residents, and only then suburban drivers. The branches are available for those who find having to pay to park (or park a couple of blocks away) too inconvenient. Quite simply: this is a case of people who occasionally want to use the library remaking it nicer for themselves while forgetting about those who need the library.
I'm with my former colleague Carl: some of these bonds are clearly just too much - we're borrowing for non-necessities which are going to dig us into an operations/maintenance hole later on. Unless somebody at the library can make a compelling case which doesn't rely on the obvious falsehood that they're out of space for books, I'd urge you to vote no on this particular bond (#6). Buy some better shelves; move some people's offices to other buildings; and if in a few more years, we're back where we are today, then plan a new building in the current location.
This entry was posted in the following categories:
Austin
,
Urban Design
,
Walking in Austin (Pedestrian Issues)