Why frontage roads are bad for transit
Here's two frankly awful drawings I just threw together in the five minutes I could spare. Better versions are gratefully appreciated if anybody's got some. I'm just an awful awful artist, but this satisfies a promise I made a few crackplogs back.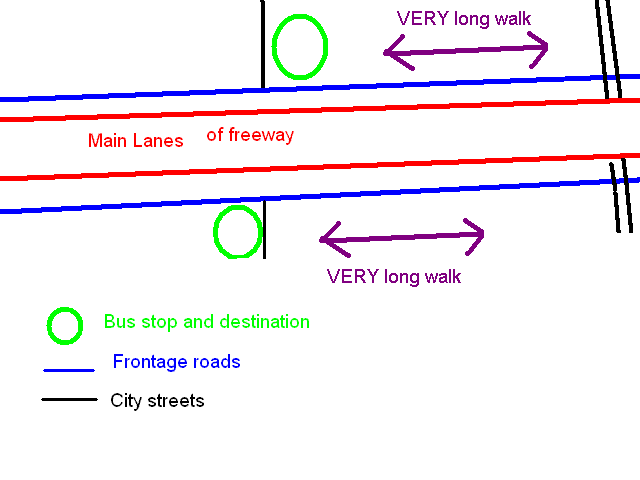 This first image is roughly what you face when you need to get to the destinations on Riata Trace Parkway on US 183 in northwest Austin. Imagine you're coming from the left - your bus runs down the frontage road on the opposite of the highway, and you get off the bus. (This stop in this picture actually represents the Pavillion Park and Ride - i.e., this is what really happens up here - no, the good buses don't stop at Duval either). Even though your destination is directly across US 183 from your stop, you need to walk the better part of a mile down to Duval Road, turn around, and walk the same distance back up the other side. (This is even more odious since there used to be a city street crossing US 183 here before the road was upgraded to a freeway).
For those who think this is an unlikely example, this situation is exactly what I faced when trying to take transit back home from an office I had (at Riata) a few years back. In my case, I was using the #982 bus as a boost for a bike commute, so at least I was only riding my bike this far out of the way - a walk like that would have been out of the question for a daily commute. Had I been trying to take transit both ways and intended to walk, in other words, you could have added about a half-hour walk each way just to get to/from my office from the bus stop, even though it was right across the freeway - and again, would have been a simple 2 minute walk before the freeway's frontage roads severed this crossing.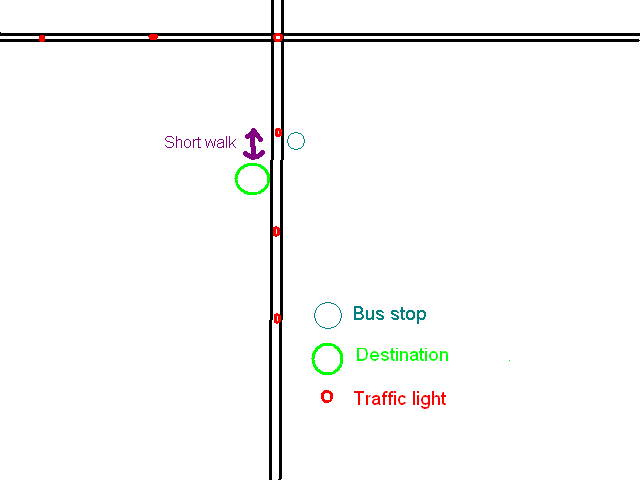 The second image represents the area around Northcross, on which runs a bus which I have also used frequently (the #3). Note that all you need to do here is, worst case, walk across the street (since you'll always have a stop at a light), and walk a few blocks from the light to your destination on the other side - a matter of a couple hundred feet at most.
It's not an accident that the routes which travel on city streets like the second picture above are feasible for people walking to work, while the routes which travel on frontage roads like the first one are only feasible for unidirectional suburban park-and-ride users (who drive to the park and ride and take the bus downtown). But somehow, people over and over again think that we need to keep building these stupid frontage roads AND keep putting our major retail and office destinations on them. Frontage roads kill the ability to travel by everything except the private automobile. They destroy existing street networks - so even if your city, like Austin, tries hard to maintain alternate routes, they're still drastically affected by this abyssmal roadway design.
This entry was posted in the following categories:
Austin
,
Driving in Austin
,
I Told You So
,
Subsidies to Suburban Sprawl
,
Texas Republicans Hate Cities
,
Transportation
,
Urban Design
,
Walking in Austin (Pedestrian Issues)