Why the new library is in the wrong place
Since this has come up again recently, I thought I'd put together a better background piece than this old one. I've co-opted an image from one of the proposals for the new central library for this and added some lines. The thick green line is the major transit corridor of Congress Avenue. The thinner cyan lines are substantial transit corridors on Guadalupe/Lavaca and 5th/6th that carry at least a handful of bus routes (basically, the 5th/6th corridor carries the Dillo, the #21/#22 that circulates all over central and east Austin, the #4, and a flyer; the Guadalupe/Lavaca corridor carries all the 183 express buses and a couple of flyers, and Colorado carries a few mainline routes). This image does the best job so far of showing the problem with the new library's location - the secondary transit corridors are now several blocks away, and the one that carries 90% of the bus routes in the city is arguably too far away to walk, at least for those not in good physical condition (it'd be a bit far for me at this point).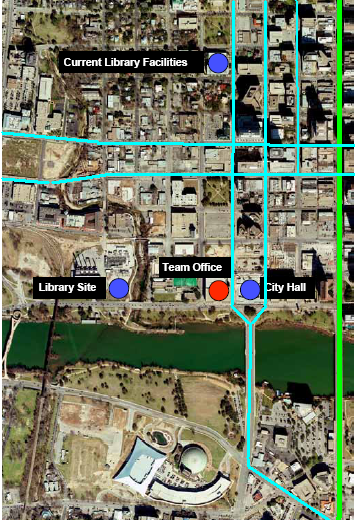 No, there aren't many buses on Cesar Chavez, especially not over by the new library location - it's pretty much just the #3, which runs through north central and south Austin.
And, no, for the fifteenth time, there aren't going to be a lot of shifts in transit routes to come over to the new library. See the body of water to the south? See the lack of bridges farther west than the Guadalupe/Lavaca couplet? Get it?
So what about streetcar, if it ever happens? Problem is that the streetcar line is equivalent to one bus route - the light blue lines on this map are corridors which carry several bus routes that go several different places. If you happen to be among the small part of residential Austin initially served by the streetcar proposal, great, but otherwise you're looking at a two-leg transit ride to get to the library at best. The yellow line shows the streetcar proposal, if it ever happens, and if it ever makes it across Shoal Creek, the latter question being far more doubtful than the former.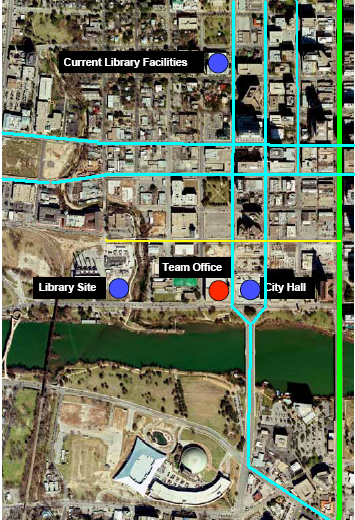 This entry was posted in the following categories:
2008 Light Rail
,
Austin
,
I Told You So
,
Republicans Hate Poor People
,
Republicans Hate Public Transportation
,
Republicans Hate The Environment
,
Transit in Austin
,
Transportation
,
Urban Design
,
Walking in Austin (Pedestrian Issues)