Crestview Station and Commuter Rail
So Capital Metro's showing off stations. One of the ones they're most proud of is at the supposed TOD at Lamar/Airport called "Crestview Station". Let's imagine we're a new resident there and thinking about leaving the car at home to get to our job at the University of Texas.
Take a look at the following chart. Looks pretty good, don't it?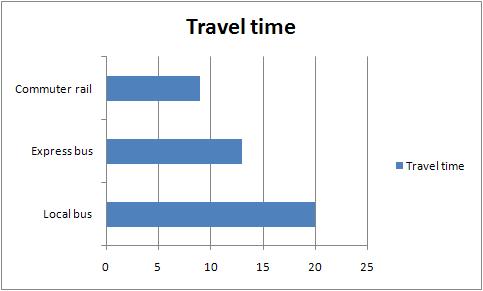 Local bus route was the #1 which seemed to get to 24th/Guadalupe as close as possible to 8:30. "Express bus" is the #101; same location and roughly same time. Pickup times at Crestview estimated to be 2 minutes from NLTC. Commuter rail travel time straight from Capital Metro's schedule to the "UT station" (MLK).
But wait. There's more.
The local bus and express bus options above drop you off at UT's front gate; 24th/Guadalupe. Where does the commuter rail drop you?
Well, that ain't UT, that's for sure. How are we going to get to UT, then?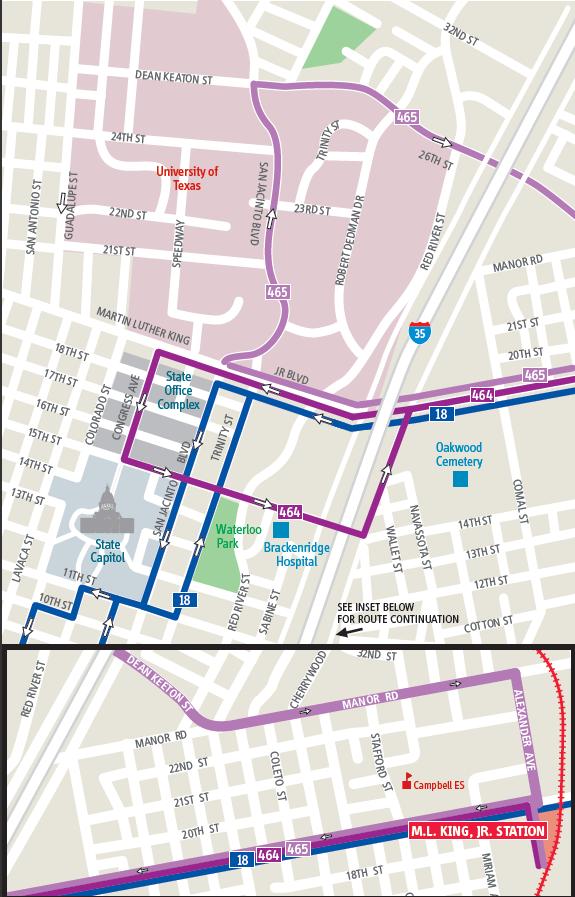 So what does that do to our travel time?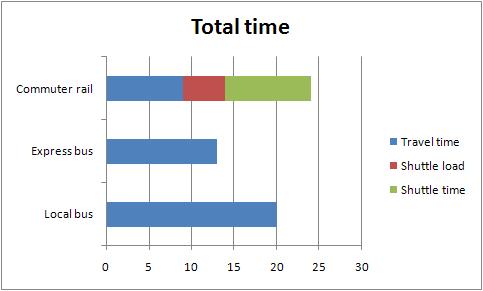 5 minutes to load the shuttle; 10 minutes to get to the stop near 24th/San Jacinto (remember, this is morning rush hour traffic; I'm probably being a bit generous with 10 minutes).
Yes, this means that the commuter rail 'alternative' will likely perform worse than even the local bus service from Crestview Station.
Just for giggles, let's imagine we had built the 2000 light rail line. Assumption here is that the morning #101 spends 2 of its 13 minutes to congestion and 1 on extra red lights, and we end up with: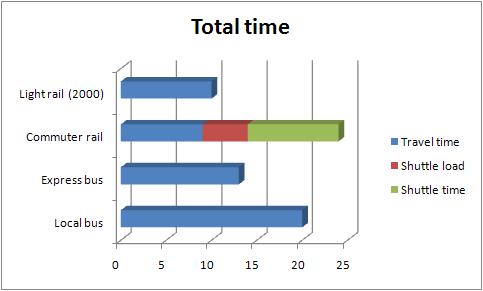 So, for those who read the first in this series, we can see that residents of Austin achieve precisely zero benefit from commuter rail at this station. Another interesting point here is that going a little bit slower but straight to your destination (2000 LRT would have taken a bit more time to get to 24th/Guadalupe than the Red Line does to get to MLK/Alexander) is in fact far preferable to going faster to the middle of nowhere. One would think this would be common sense, but, sadly, it's not; instead of pursuing true urban rail, Capital Metro actually intends to instead waste more time and money on another commuter rail line to nowhere.
Update: Commenter "The Error Term" has argued strenuously that at least a few commuters from Crestview would benefit. While I find his arguments regarding the University utterly unconvincing; he does have a small point regarding a downtown commuter (which I didn't mean to cover with this example, but I also shouldn't have jumped to "residents of Austin achieve precisely zero benefit" without covering downtown first). I don't have time now for any new charts, but here's a simple paragraph explaining the point.
Google transit shows the express bus taking 28 minutes, of which 26 is the bus trip (we should use 26 rather than 28, since I'm not counting the walk to the train station on that end either; which is a small change from the comments). Capital Metro's schedule to downtown shows 18 minutes. The walk from the train station to Frost is likely between 5 and 10 minutes. At 10 minutes, it loses by 2 to the express bus option; and at 5 minutes, it beats it by 3. The conclusion is that if you work at the Frost Bank Tower and live at Crestview Station, you could beat the express bus by up to 3 minutes by taking commuter rail if you're a fast walker, and get a marginally more reliable trip as well (if you don't mind the bordering-on-long walk by transit standards).
Most downtown office buildings would not fare as well, as most are just about right on the bus/express bus corridor(s), but farther away from the rail stop, as has been explained in numerous earlier postings here.
Next up, Howard P&R.
This entry was posted in the following categories:
Austin
,
Charts and Graphs
,
Don't Hurt Us Mr. Krusee, We'll Do Whatever You Want
,
I Told You So
,
Subsidies to Suburban Sprawl
,
Transit in Austin
,
Transportation
,
Use Cases