Capital Metro express bus changes screw Austin in favor of Leander
Take a look at the following charts (done quickly; please forgive my lack of time on the business trip) showing some of the express bus routes proposed for elimination when commuter rail service begins: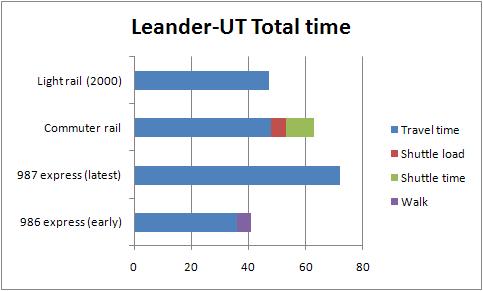 The really fast express bus from Leander only runs obscenely early (6:00 - 6:30 AM). After that, you need to take the #987 (the one that runs down Mopac, 38th, Guadalupe), which, at least for the 'late' (7:30ish) trip, shows to be slower than commuter rail. So far so good. But what about the Lakeline Park-and-Ride, you know, the one that's "in Austin"?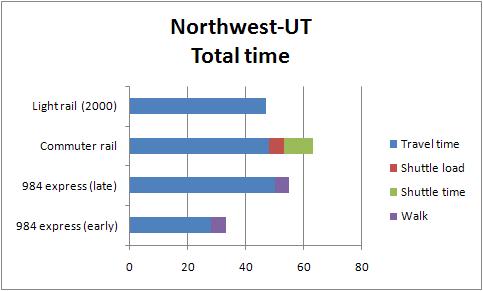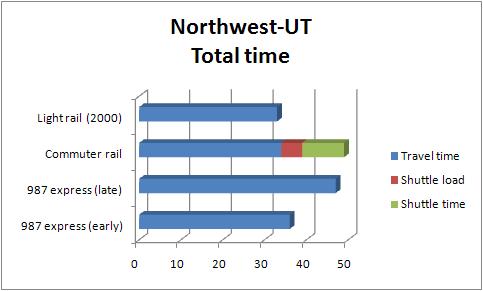 Anything pop out at you? Yes, that's right: both the early and 'late' express bus runs from Northwest are faster than what people will be forced to do when commuter rail service starts. The only beneficiaries of this change in service will be residents of Leander (and maybe the freeloaders in Cedar Park, depending on which direction they drive and how far).
Quick notes:
The 984 and 986 drop off at MLK/Red River; I added an extra walk of 5 minutes to those trips to be more fair.
I continue to be what I think is excessively fair to commuter rail by assuming that its commuters work right next to the shuttle drop-off on San Jacinto (far more likely, I think, that people work closer to the express bus drop-off at 24th/Guadalupe).
The 987 drops off at the front gate of UT (I subtracted 1 minute from the 21st/Guad timepoint to estimate 24th/Guad).
LRT is my own estimate based on a combination of commuter rail time to Crestview and #101 time (minus a couple minutes) from there to 24th/Guad.
This entry was posted in the following categories:
Austin
,
Charts and Graphs
,
Don't Hurt Us Mr. Krusee, We'll Do Whatever You Want
,
I Told You So
,
Republicans Hate Poor People
,
Republicans Hate Public Transportation
,
Republicans Hate The Environment
,
Subsidies to Suburban Sprawl
,
Texas Republicans Hate Cities
,
Transit in Austin
,
Transportation
,
Use Cases