Capital Metro is trying to mislead you
Had this article been dated today rather than yesterday, it would have made more sense. Alas, they're really serious: they're honestly making the point that it doesn't matter that they don't have any reserves left to pay back the City of Austin.
CM employees all over the place have been ticked at what they claim is unfair press coverage of this issue -- but as both myself and a colleague from UTC days of yore have concluded, they have yet to directly address the claims made in Ben Wear's article that launched all this kerfluffle. Nor should you ignore the fact that Mike Martinez, who even when I disagree with him is always on top of the ball, is still apparently pissed.
Well, here's some charts-and-graphs that might help put this into perspective.
First of all, one 'rebuttal' CM employees and board have been making is that commuter rail was always supposed to spend down some of their reserves. This is even actually true!. The problem is this: The plan was sold to Austin based on federal participation, which was since abandoned (in my opinion because the Feds would likely have passed on a plan with such little bang-for-the-buck). Add in the typical (being fair here) overruns on any rail project, and you end up with this: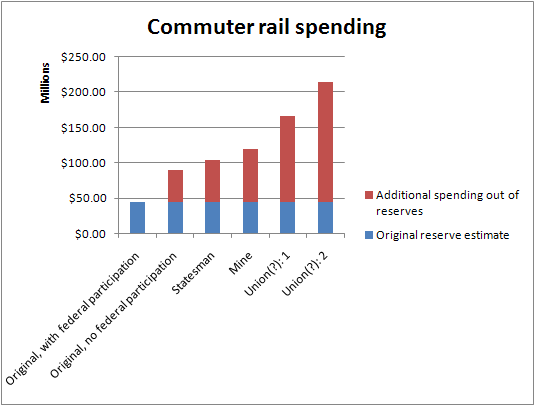 Key: Original budget was $90M; Federal spending was supposed to provide half. Estimates provided from Statesman and myself, and then two different estimates from the folks who I believe to be the bus riders' union from this posting of supposed rail expenses.
Is that enough to account for the difficulty meeting commitments to Austin? Well, let's put that into perspective, shall we?
Since at the end of the day, the reserves are, as pointed out by Wear and not challenged by CM, near their effective minimum right now, it is abundantly clear that Capital Metro is willfully misleading the public when they try to claim that commuter rail spending will not prevent them from meeting their agreed commitments to the city of Austin.
Nice try, guys.
This entry was posted in the following categories:
Austin
,
Charts and Graphs
,
Don't Hurt Us Mr. Krusee, We'll Do Whatever You Want
,
I Told You So
,
Transit in Austin
,
Transportation