Rail Should Reduce Operating Costs
One of the major selling points of rail service over bus service is that it reduces operating costs (at the expense of higher capital spending, although not as much of a difference as most people assume given how frequently buses must be replaced). Is this going to work out for the Red Line?
Here's a little table for you to consider:
| Mode | Passenger load | Drivers per 100 passenger trips |
| --- | --- | --- |
| Express bus | 40 | 2.5 |
| Red Line (train) | 150 | 0.67 |
Sounds pretty good, huh? Saved on quite a bit of labor there - as well as other costs that track with 'trips', like fuel! But wait a minute - how are the passengers getting from the train station to their office again?
Oh yeah, shuttlebus.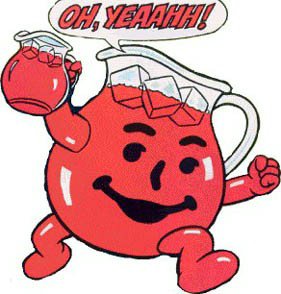 Let's expand our table, shall we?
| Mode | Passenger load | Drivers per 100 passenger trips |
| --- | --- | --- |
| Express bus | 40 | 2.5 |
| Red Line (train) | 150 | 0.67 |
| Shuttle bus | 40 | 2.5 |
Yes, that's right; the shuttle buses aren't going to carry any more people than the express buses did - probably less, actually, given that the express buses are extra long; but I'm feeling charitable. What does that do to our operating costs here?
Well, for each passenger taking the Red Line, they first take a trip on the train (0.67/100pt) and then a trip on a shuttlebus (2.5/100pt) for a total figure of 3.17/100pt.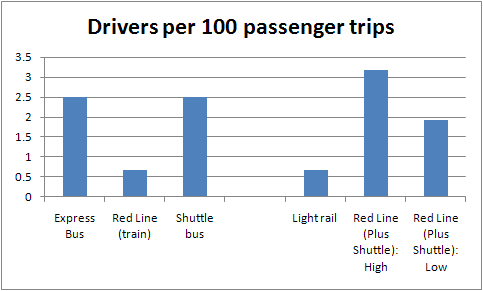 Wow! Yet another way in which the Red Line is just absolutely full of win. Higher capital costs than express buses, and higher operating costs too! The "Light Rail" entry refers to the 2000 line - which would have required no shuttlebuses at all; dropping passengers off right in front of UT just like the express buses do; right in front of the Capitol like express buses do; and on Congress Avenue (even closer to most offices than the express buses do).
Notes on data: This is a crude comparison, of course; we don't know how many shuttle trips are going to be required to serve each train or whether a shuttle driver can serve one or two trains per hour. There's 150 seats on the train; yes, some can stand, but more than 40 people can fit on the express bus, too. Shuttle bus capacity is just a guess at this point since they still haven't released information about the vehicles being used - my bet is that they're going to be the old Dillos taken out of service downtown, but with nothing conclusive, I have to go with a middle-of-the-road estimate of 40 there too. If one assumed that two shuttle trips were being made per hour by the same driver (not sure this will be possible); the total operating cost per passenger trip for the Red Line + shuttle case drops to something like (1.25 + 0.67) or 1.92 - below the express bus figure, but high enough to not be worth the extra capital cost.
This entry was posted in the following categories:
Austin
,
Charts and Graphs
,
Don't Hurt Us Mr. Krusee, We'll Do Whatever You Want
,
Economics
,
I Told You So
,
Transit in Austin
,
Transportation