Rapid Bus update
So the latest map made me and some other folks I know have greater doubts that the service would operate on Guadalupe in front of UT (made it actually appear as if it was running on Lamar to MLK, and then coming up the hill to Guadalupe/Lavaca after that). Turns out I should have saved the image and then loaded up offline; as you'll see if you click on it below.
Capital Metro has finally confirmed that it's still Guadalupe, although they insist their map wasn't confusing. At all. Here it is; you be the judge - in retrospect you can sort of see the Lamar wiggle on the left; but on the other hand, why is the UT logo so far away from the supposed Guadalupe line; and what's the grey line in between? Why have a large jog at what's clearly MLK when really only the northbound traffic jogs at all there, and only one short block?
Here's what you get at first: (squishing particularly annoying; and, yeah, I'm using firefox):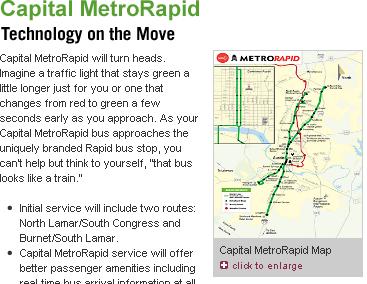 The image below is in the size you would normally get if you "expand" at Capital Metro's site. Click through to the image you get if you save; at which point the squiggles become a bit more obvious. (Yes, Lamar on the west; probably Speedway on the right, although why have a grey line curving towards 38th at the end there?)
After Erica McEwen confirmed the routing, Ed Easton defended their map and insisted that anybody and everybody should have shown up to their 'workshops'. I replied as follows:
Ed, the tone of your comment is a bit off-putting. I have no interest in attending sessions which purport to be seeking public input but are really marketing efforts to put the stamp of public participation on top of an already-decided plan.

I got the Rapid Bus pitch in 2004 in private with three other UTC members before this plan was ever unveiled to the public, by the way, in case you folks forgot.

While I and others had already been operating under the continued assumption that the route would be on Guadalupe in front of UT, there were no materials from Capital Metro available on your website that directly answered that question; and the maps became actually less clear as they evolved, making us have some doubts. It's not that hard to publish the route in detail - and it's not that hard to directly answer very simple questions.

Even Jeff Wood, who is clearly a lot more loved over there than I am these days, doesn't buy the public participation myth - his comment from an earlier posting:
M1ek is right. It wasn't a citizens process. It was more like "we're going to do this and you're going to like it". I remember we had to pull teeth to even get a streetcar studied. This decision to do faux BRT makes me sad. As a former #1 rider I really really wanted to see real quality transit on Guadalupe in my lifetime. Looks like the best corridor for that will now be taken for bus repackaged transit.
Part of me kind of wishes they had changed to Lamar - it would prevent the destruction of possible rail transit on this corridor that McCracken and Leffingwell (I misattributed to Walker at the time, I think) argued against last time around and it would actually 'work' better on Lamar due to the longer distance between traffic lights, but on the other hand, a stop at MLK/Guadalupe wouldn't serve UT well at all. All moot now, I suppose.
This entry was posted in the following categories:
Austin
,
Don't Hurt Us Mr. Krusee, We'll Do Whatever You Want
,
I Get Hate Mail
,
PS: I am not a crackpot
,
Rapid Bus Ain't Rapid
,
Transit in Austin
,
Transportation