Red Line Myth #1: The 'downtown' station is within a short walk of your office
Was going to do a nice outline before I jumped in, but then I saw this really well-done brochure by Capital Metro on 'how to ride the train' which encourages this myth.
Red Line Myth #1: This 'urban rail' line will deliver you to within a quick, short, walk of your office building, like most other successful (light) rail lines have done.
Look at this picture, from page 5: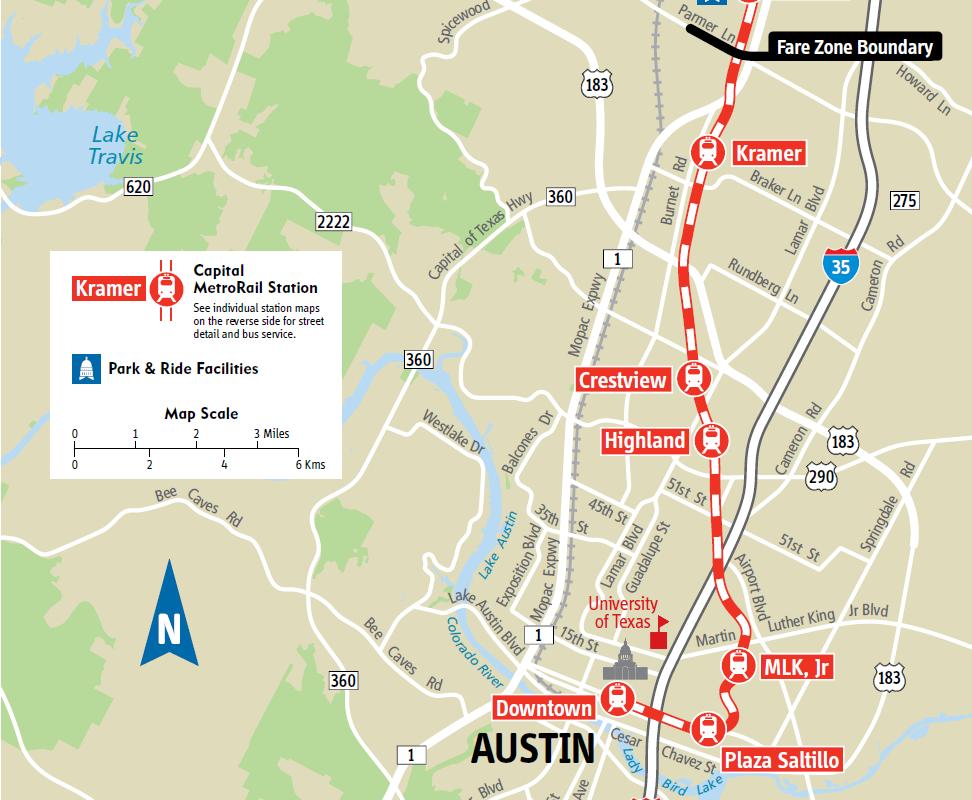 Looks like the train goes right in the middle of downtown, doesn't it? Looks like it's right on Congress Avenue south of the Capitol, where all those big office buildings are! Firmly rebutting everything I've been telling you about how you'll use commuter rail, if you do?
Well, not exactly. Move on to page 7 and look at this image: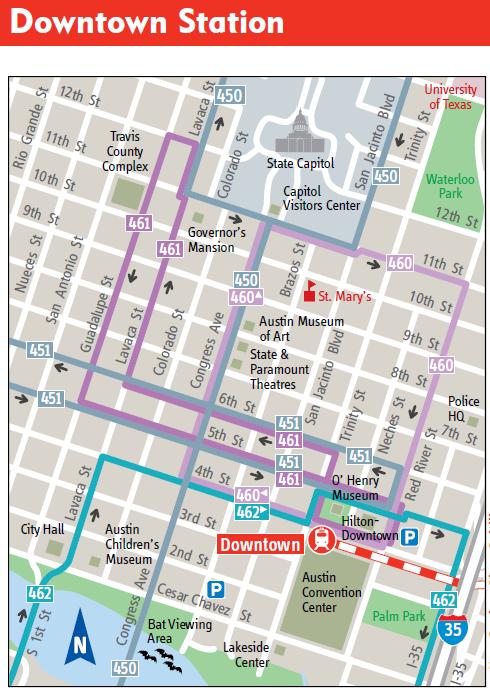 and read this text:
Location: The Downtown Station is conveniently located outside the Austin Convention Center on 4th St. between Neches & Trinity. Dedicated Rail Connector buses will greet passengers at this station to move them quickly to major downtown employers and destinations.
Get it? I'll highlight for emphasis: Even Capital Metro admits that passengers will need to take 'connector buses' to get to major downtown employers and destinations from the 'conveniently located' station at the Convention Center - in the part of downtown where there aren't any office buildings or any attractions. Folks, the only way to take a fairly quick trip from NW Austin and points farther out to your office which isn't going to require a transfer will continue to be the express buses, unless and until Capital Metro cuts them off to inflate Red Line ridership numbers.
And for those of you who think you're going to walk every day because you're not lazy, good for you. Transit research shows that the 1/4 mile rule is a good planning tool because, frankly, most people have a limited time budget, even if they're not lazy, to spend on their commute. A train trip which is 5 minutes faster than their car but that requires 20 minutes of walking to get to their office isn't going to get anybody to ride who wasn't already willing to take the express bus, that's for sure.
Even better images of the downtown 1/4 and 1/2 mile walking zones from the downtown station courtesy of me, google maps, MSPaint, and DSK: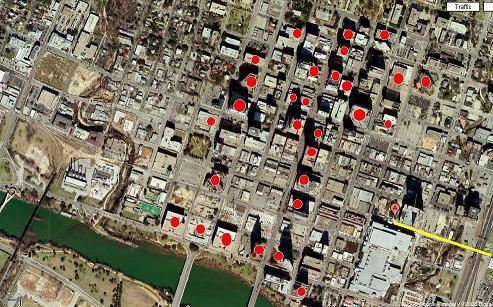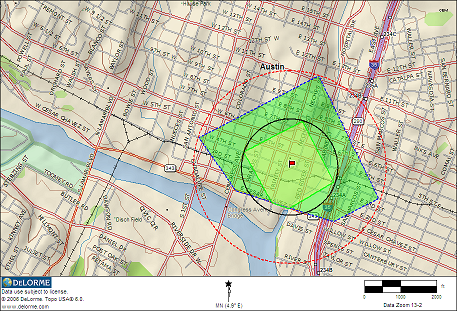 This entry was posted in the following categories:
Austin
,
Don't Hurt Us Mr. Krusee, We'll Do Whatever You Want
,
I Told You So
,
Red Line Myths
,
Transit in Austin
,
Transportation