Red Line Update
Last week's ridership reports are in, and they already fall within the range I predicted - even before the "settling down" period has really been reached.
What a difference $3 can make.

Specifically, the distinction between MetroRail's free first-week rides and the cost of a one-way ticket in the second week was ridership that fell from an average of almost 2,900 boardings a day to about 1,000 daily boardings when people had to pay. That's about half of what Capital Metro has projected ridership will average in the first year of the Red Line, and it equates to about 500 people using the commuter line to get to and from work.

In case anybody forgot, we've now given up this: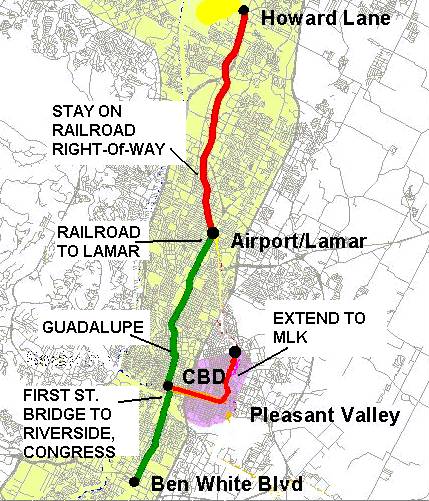 (30,000-46,000 boardings per day on a line which would have served the suburbs and Austin; which would have gone downtown and not just the Convention Center but to the parts where people actually work; which would have gone straight to UT and the Capitol rather than requiring a shuttle-bus; which would have served not only the joke TOD-in-name-only Crestview Station but also the much higher density residential development at the Triangle and in West Campus)
for this: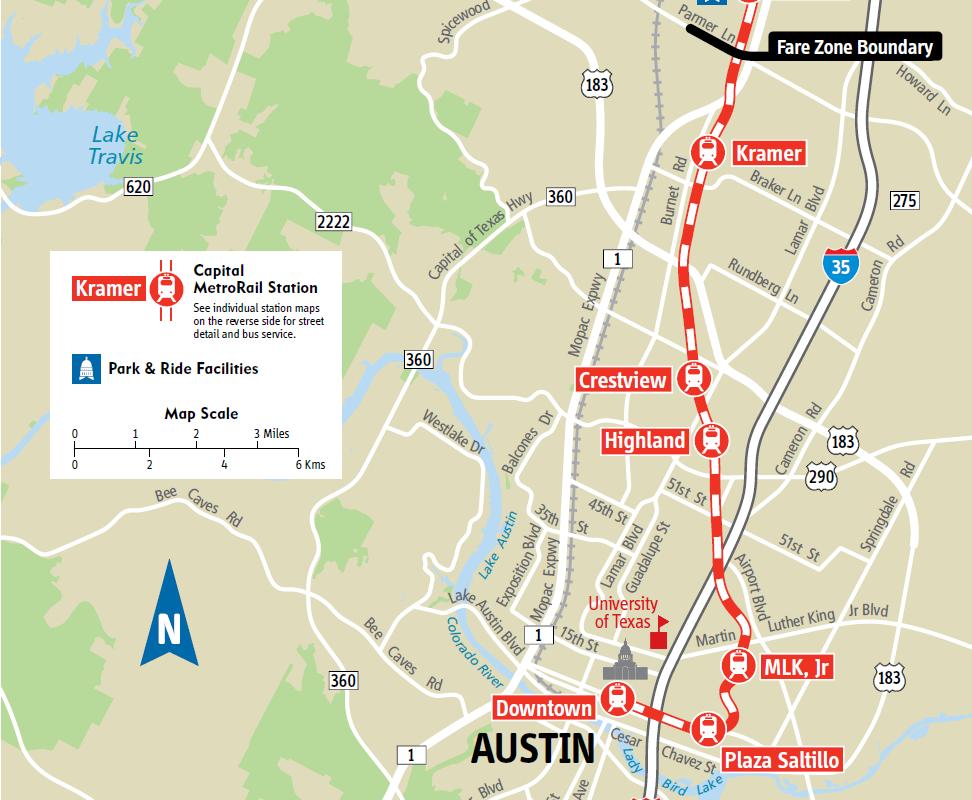 (commuter line which is already down to serving 500 people per day on a good day - even while joyriders are still trying the thing out).
You can't build the 2000 line now, ever; you simply can't get from the Red Line to rail that serves the urban core; it's NOT a first step; it's NOT a good start; it's a distraction that must be worked around while it sucks up nearly all the available local transit dollars. The only thing we can do now is what the city's trying to do - build something from another direction that might work half as well as the 2000 plan would have; and try to do it with half the funds (since the Red Line sucked up the light rail savings account and is now going to be costing us dearly in future operations and capital funding).
And the people who held their nose and voted 'yes' on the promise of light rail from Capital Metro to serve the urban core right after? Yeah, those are the same folks who are either completely quiet now or are waging a campaign of disparagement on yours truly from the shadows.
Good show, Austin. Good show.
This entry was posted in the following categories:
Austin
,
Don't Hurt Us Mr. Krusee, We'll Do Whatever You Want
,
I Told You So
,
Transit in Austin
,
Transportation