Just what you needed: Some Crappy Video
I shot this while watching the 8:12 arrival of the Red Line downtown this morning (on my way to work). Excuse the quality; my standard for a phone is "does it make calls? is it free?".
I estimate 25-30 people got off the train here, which is a bit more than I expected given the MLK experience on Wednesday (same train; 15 people going to UT or Capitol). From this we can extrapolate that about 40-45 people get off at the two stops where you can get to actual workplaces on what I expect is the busiest trip of the morning (see end). Add in 5-15 more for all the other stops put together, and you get 45-60 people per day as a ceiling. (An aside: I overheard one passenger say "56 people" as she walked by; I don't know whether that was a coincidence or maybe an actual passenger count).
Let's be charitable and pretend that each and every one of the six morning trips carries that many people (even the ones starting up in Leander at 5:25 AM and 6:00 AM; even the one trip that starts at Howard and only had 2 people on it when I watched it arrive at MLK on Monday).

We've got a basic ceiling (charitable) estimate of 360 boardings in the morning by this method. IE, I would be greatly surprised if more than 720 boardings per day are now happening on weekdays on this line.
Meanwhile, Phoenix's light rail line, built like our 2000 line would have been (except with less speed in suburban areas), has now passed 45,000 boardings per day.

This isn't a ridership figure we can approach by running the Red Line more often and/or on two tracks. The reason Phoenix sees tens of thousands while we see hundreds is quite simply this: Phoenix made sure the train went where lots of people live and lots of people work (and even more go to school), rather than sticking a train on existing tracks that didn't go near anything worthwhile. Phoenix did what we would have done in 2001 if Mike Krusee hadn't forced us to the polls early, in other words; or what we should have come back to in 2004 instead of falling for commuter rail's promise of "almost as good and a lot cheaper".
This isn't something we can fix by extending the Red Line to 4th/Brazos. You're still stuck with a strategy that can never, ever, ever serve UT or the Capitol or the northern half of downtown (we will never run these DMU vehicles in front of UT or the Capitol - too stinky and too porky to make turns).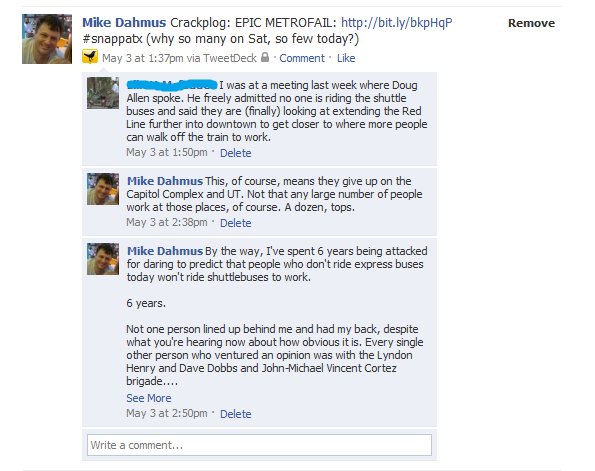 This is a dead end that we got because people trusted Capitol Metro rather than listening to those who have experience with another system just like this one.
(Why do I think this is likely the busiest trip of the morning? The trip after this one is the one that starts at Howard Lane and only had 2 people get off at MLK on Monday; the one after that doesn't get downtown until 8:56, meaning most passengers to both UT and downtown would arrive after 9:00; and the trip before this one starts in Leander at 6:35 AM; the two before that are even more pervese - 6:00 and 5:25 AM respectively).
This entry was posted in the following categories:
Austin
,
Don't Hurt Us Mr. Krusee, We'll Do Whatever You Want
,
I Told You So
,
Republicans Hate Poor People
,
Republicans Hate Public Transportation
,
Republicans Hate The Environment
,
Texas Republicans Hate Cities
,
Transit in Austin
,
Transportation