Rapid Bus Ain't Rapid, 2011 Confirmation
Click for larger version.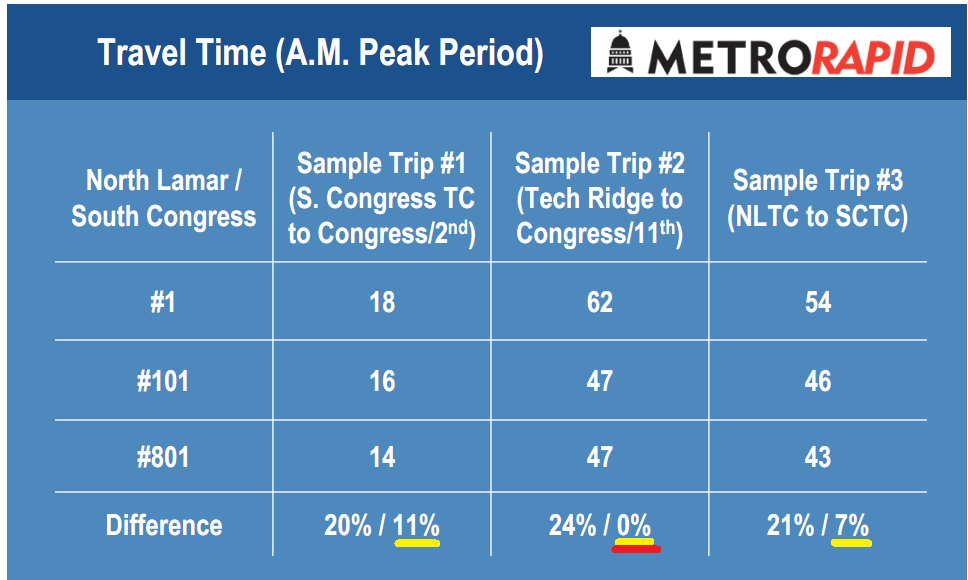 Note for emphasis versus existing Route 101. As I said way back in 2005 and several other times since, Rapid Bus is just a way for Cap Metro to get the Feds to pay for new rolling stock - it provides practically zero time savings over existing limited-stop #101 service. It's not rapid; it's not anything like what light rail would have been. The cars of all the people stuck from the next light up will still be in your way even if you can hold the light directly in front of the bus green a bit longer.
Cap Metro is attempting to market their way around this by posting two much less relevant trips around the one that really matters - the vast majority of #101 ridership comes from the north, not the south, i.e. trip #1 is not that big a deal, and trip #3 is ESPECIALLY not a big deal as nearly zero people ride the length of the route - almost everybody gets off at downtown or UT in the morning, in other words. Trip #2 is the one that matters, and what you see here is that Cap Metro expects 0 time savings compared to the existing 101 bus.
Rapid [sic] Bus. Still sic, five years later. And remember, thanks to those who voted for the Red Line, this steaming pile of crap is all the best rail corridor in the city will ever have for transportation options.
This entry was posted in the following categories:
Austin
,
Don't Hurt Us Mr. Krusee, We'll Do Whatever You Want
,
I Told You So
,
Rapid Bus Ain't Rapid
,
Transit in Austin