Capital Metro flips city the bird
or, in short, Ben Wear was right.
I don't have time to do anything but excerpt and link; incredibly busy at work and elsewhere.
Full Statesman article and relevant quote:
The city is due the money, say the two people caught in the middle: Austin City Council Members Chris Riley and Mike Martinez , who also serve on the Capital Metro board — Martinez as chairman.

"Capital Metro's obligations to the city are legally enforceable," Riley said at an board meeting last week. "That does not mean, 'whenever we feel like we're flushed with money.' That language (in the agreement) does not mean we can pay whenever we want.

"You can dismiss this as coming from a city guy. But I believe Cap Metro would be in a weak position if it came to litigation."

Note this proves that CM was lying about their reserves, and their enablers who insisted they'd be paying the 1/4 cent money owe Ben Wear a big fat apology.
Earlier coverage:
No, I can't stop beating that horse
A lot of people wonder why I keep talking about the Red Line, seeing as how any month now it'll finally open - it can't actually be stopped at this point. The dead horse analogy is repeatedly invoked, sometimes by people on 'my' side; often by gladhanders like JMVC on the other side.
Check out this post on Capital Metro's blog, especially this comment:
alas, yes. When MetroRail starts up, it will be a commuter service to get people to work M-F. We can't immediately expand to all day/night/weekend service because we are obligated by law to carry freight (remember passenger and freight rail use the same set of tracks). Of course we will work towards expansion over time–we want to take you to downtown at night!–but it will take time because we have to build more track and possibly get more railcars, too.
I have responded in a comment, but since it's always a crapshoot if/when they publish me (I'm in moderation and sometimes 'forgotten'):
Spending scarce local rail dollars on a service which even if/when double-tracked and run all day will, by the Feds own judgement back in 2000, be a ridership loser, is a really bad idea - especially when we have a much better local project needing the money (city urban rail plan).
Yes, even today, Capital Metro's #1 priority publically is sending even more local and federal rail dollars down the Red Line rathole when, as referenced above and in the last crackplog, even with two tracks and all-day service and overhead electric wire, the Feds rated the line unlikely to achieve even moderate levels of ridership. Why is that? Well, for those not tired of the dead horse, you can't take it anywhere worth going without transferring to a shuttle-bus, and never, ever, ever will.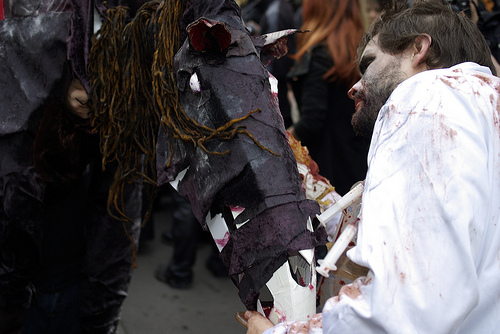 (metaphorical depiction of Red Line courtesy of "anw.fr" on flickr
Dead horse? Capital Metro keeps re-animating it, so I guess I need to keep beating it.
A few relevant past articles: